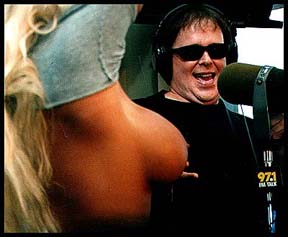 Tonight at 3AM i'm moving my car because I live in an area of Koreatown that has streetcleaning between 8-10am (rather than you know, 10-12am when most people are at work already) two days a week.
While looking for a spot I had my radio tuned in to 97.1 KLSX and it's a repeat of a very annoying daytime radio show hosted by the fatso above, Tom Leykis.
I've always wondered why I hate Tom Leykis and before I thought it was just the schmaltz, how he wastes airtime with his stale routines, bumpers and overly inflected voice, lame alt.seduction.fast advice, tired bits and cliches, army of male fans who never get laid but call radio shows and claim they did ("hey Tom. giggle. I scored with a hot babe and she was hot. giggle.")
Maybe its because  his show is the same boring crap every day performed by a very homely looking woman who takes 10 minutes to spit out a 10 word sentence.
But that's not why I hate Tom Leykis.
It's because he's a pussy and only has iconoclastic opinions on the easy, meek targets:
women, religious people, poor people, single parents, the unwashed, the uneducated, Republicans, gays, etc.
When it comes to dangerous topics he has no opinion, is obsequiously neutral, or is politically correct.
He's a stupid pussy and he has no talent and obviously no personal life (read: "hot babes") since he hosts a friggin radio show 6 days a week.
Just wanted to throw that out there.
Comments
comments